NF Integrated Air And Water Combination Heater Similar to Truma
Product Detail
Product Tags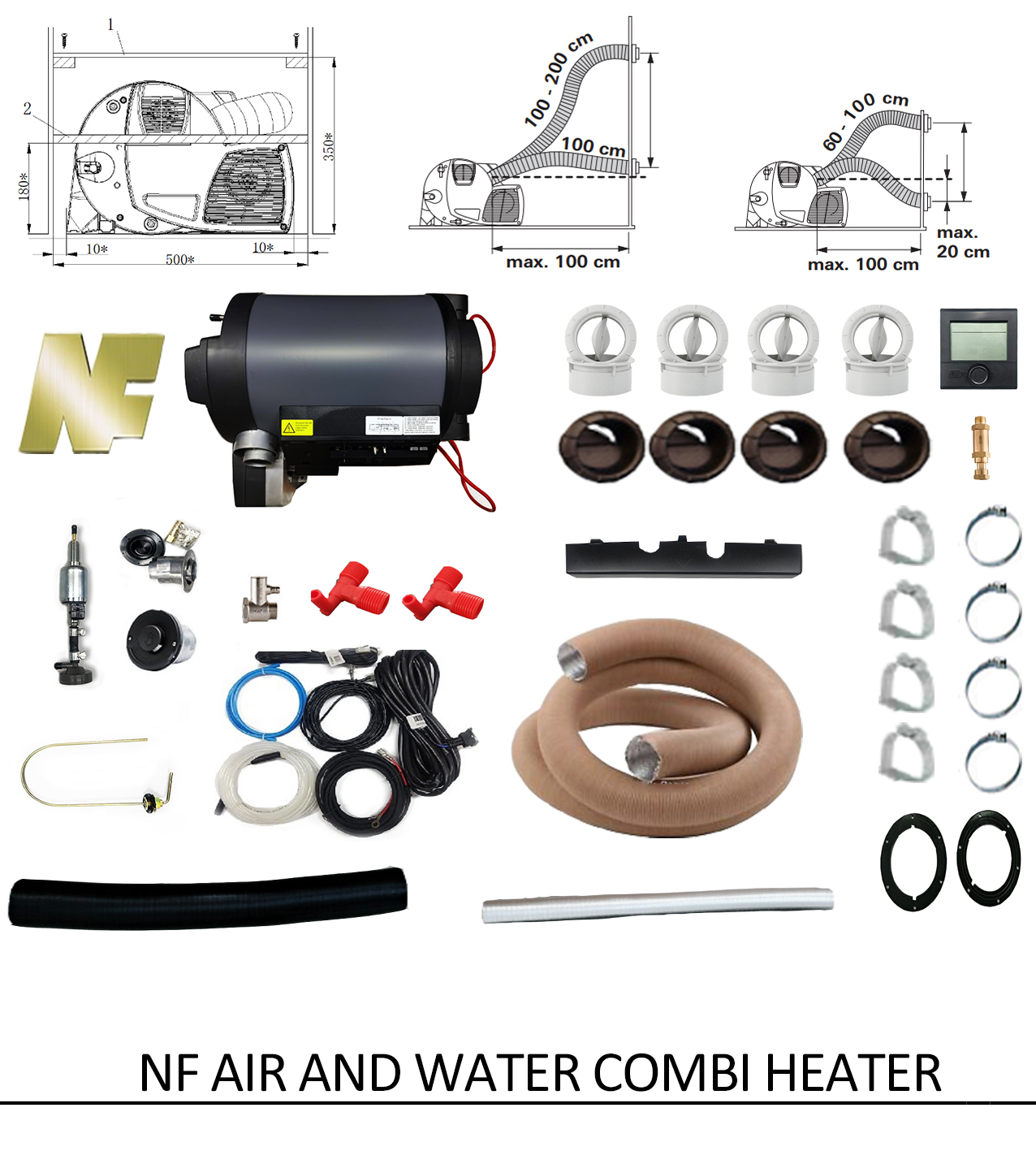 An efficient heating solution for your motorhome, campervan or caravan, the NF combi diesel heater has all the benefits of a combi heater with a diesel burner instead of gas, and combines hot air and water heating into the one easy to use and convenient unit.
Rated Voltage

DC12V

12V/24V

Operating Voltage Range

DC10.5V~16V

Short-term Maximum Power Consumption

8-10A

Average Power Consumption

1.8-4A

Fuel type

Diesel

Fuel Heat Power (W)

2000

4000

5000

Fuel Consumption (g/H)

240/270

510/550

Quiescent current

1mA

Warm Air Delivery Volume m3/h

287max

Water Tank Capacity

10L

Maximum Pressure of Water Pump

2.8bar

Maximum Pressure of System

4.5bar

Rated Electric Supply Voltage

~220V/110V

Electrical Heating Power

900W

1800W

Electrical Power Dissipation

3.9A/7.8A

7.8A/15.6A

Working (Environment) Temperature

-25℃~+80℃

Working Altitude

≤5000m

Weight (Kg)

15.6Kg(without water)

Dimensions (mm)

510×450×300

Protection level

IP21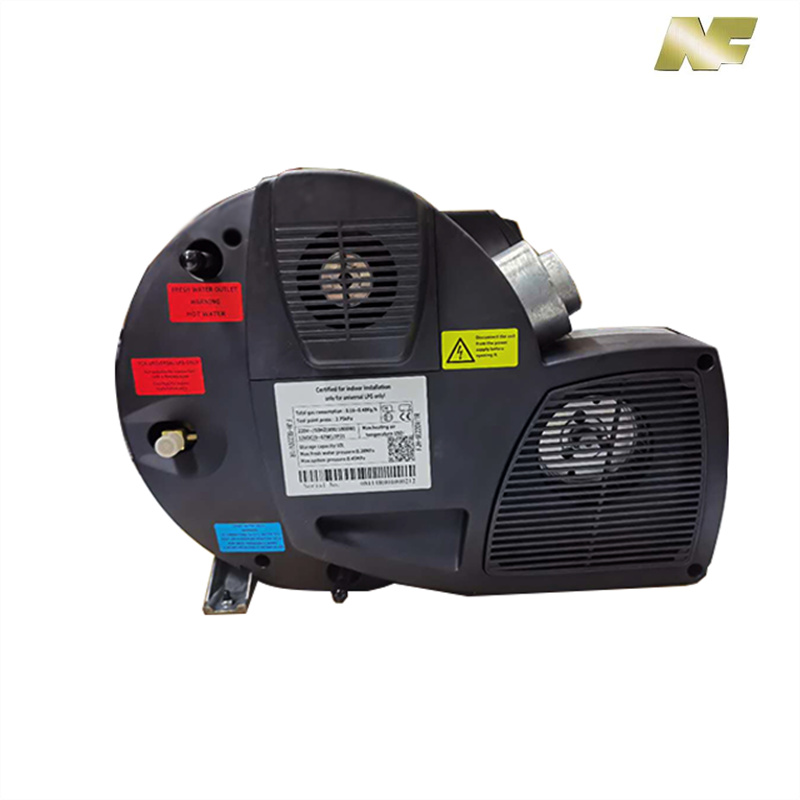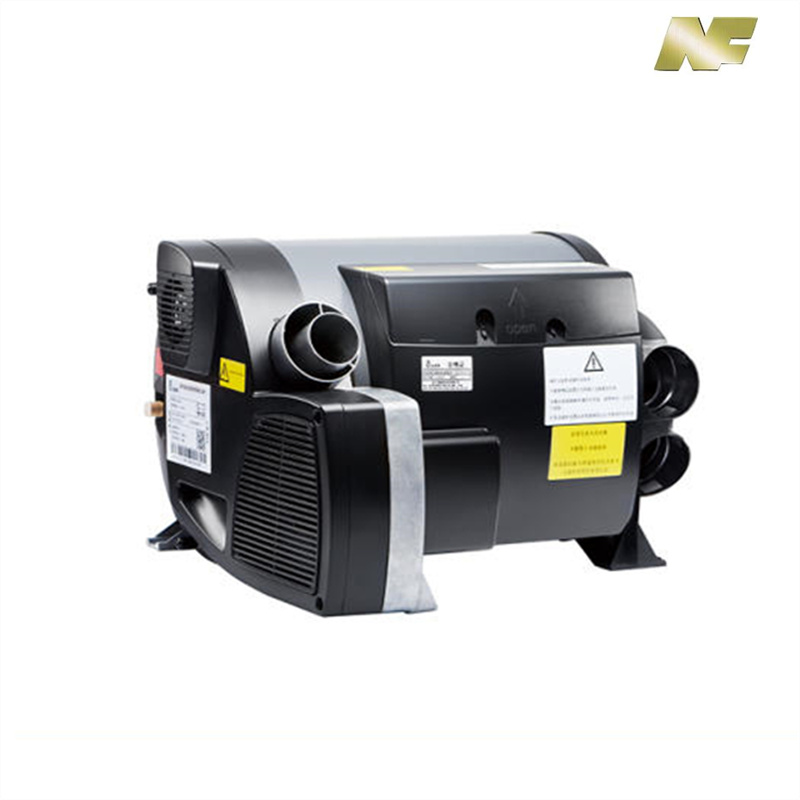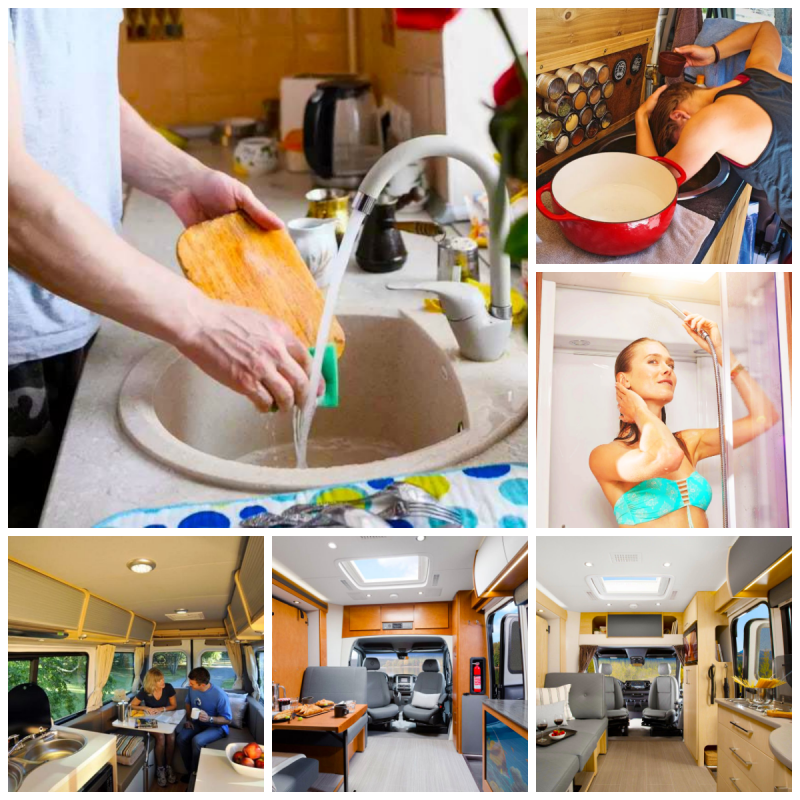 1.Is it a copy of Truma?
It is similar to Truma. And it is our own technic for electronic programs
2.Is the Combi heater compatible with Truma?
Some parts can be used in Truma, such as pipes, air outlet, hose clamps.heater house,fan impeller and so on.
3.Must the 4pcs air outlets be open at the same time?
Yes, 4 pcs air outlets should be open at the same time. but the air volume of the air outlet can be adjusted.
4.In summer, can the NF Combi heater heat just water without heating the living area?
Yes.Simply set the switch to summer mode and select 40 or 60 degrees Celsius water temperature. The heating system heats only water and the circulation fan does not run. Output in summer mode is 2 KW.
5.Does the kit include pipes?
Yes,
1 pc exhaust pipe
1 pc air intake pipe
2 pcs hot air pipes, every pipe is 4 meter.
6.How long does it take to heat 10L of water for shower?
About 30 minutes
7.Working height of heater ?
For diesel heater, it is Plateau version, can be used 0m~5500m.For LPG heater, it can be used 0m~1500m.
8.How to operate the high altitude mode?
Automatic operation without human operation
9.Can it work on 24v?
Yes, just need a voltage converter to adjust 24v to 12v.
10.What is the working voltage range?
DC10.5V-16V High voltage is 200V-250V,or 110V
11.Can it be controlled via a mobile app?
So far we do not have it, and It is under development.
12.About heat release
We have 3 models:
Gasoline and electricity
Diesel and electricity
Gas/LPG and electricity.
If you choose the Gasoline&electricity model, you can use gasoline or electricity, or mix.
If only use gasoline, it is 4kw
If only use electricity, it is 2kw
Hybrid gasoline and electricity can reach 6kw
For Diesel heater:
If only use diesel, it is 4kw
If only use electricity, it is 2kw
Hybrid diesel and electricity can reach 6kw
For LPG/Gas heater:
If only use LPG/Gas, it is 6kw
If only use electricity, it is 2kw
Hybrid LPG and electricity can reach 6kw
---
---